Guest bedroom
The CIEL ("Sky") bedroom is perfect for 2 people: living room and sleeping space with a 160*200cm sized bed,
shower and separate water closet.
This room can communicate with another room for children (or even for another friend couple):  ETOILES ("Stars") has 2 beds: one of 90*200cm and another of 120*200cm that can be made side by side.
The 2 rooms are decorated with restored antique furniture, original lighting fixtures and comfortable cushions.
Every detail is planned to recreate an authentic environment.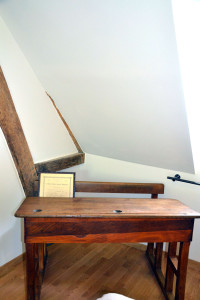 Room price
Rate for the Room Ciel :
For 1 person :   from 90€ to 110€ per night
For 2 persons : from 110€ to 130€ per night
Rate for the 2 Rooms Ciel + Étoiles together :
For 3 persons : from 130€ to 150€ per night
For 4 persons : from 150€ to 170€ per night
Breakfasts are included in the price
Booking now